TRUSTED HOME CARERS
Care that's right for you, as and when it's needed
.
Whatever support and care you need, we are here to help. We match you or your family with experienced, trustworthy carers who can assist with everything from simple companionship to more specialist care at prices you can afford.
3 EASY STEPS
Getting started with your home care
.
Step 1
Register your details
First time using TrustonTap? We will ask a few simple questions to see what help you need.
Step 2
Begin your search
We will show you a selection of carers and help you find one that meets your needs and your budget.
Step 3
Connect with a carer
We will help connect you with your chosen carer to arrange an introductory visit.
information
Advice & Support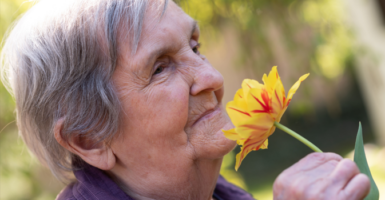 Health & Wellbeing
A simple smell test may help reveal signs of unhealthy ageing and frailty
This research adds to growing evidence of using smell tests as an integral part of clinical care for ageing people who may be cognitively impaired.
Continue reading
Health & Wellbeing
Osteoporosis in the Elderly and how to prevent it
Osteoporosis is a disease which makes bones weak and fragile. The disease has no obvious symptoms, so many people don't know they have osteoporosis until they suffer a fracture.
Continue reading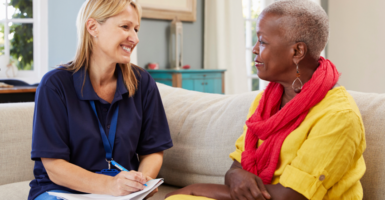 Home care Planning
What is respite care and how does it work?
Respite care is often an important part of treatment and care for people dealing with the elderly. Often it is used after a hospital discharge or to give your regular carer or family member a break.
Continue reading
TESTIMONIALS
What TrustonTap customers say about their carers
SJ, Christchurch
24/03/23
"Titus has made a very positive difference to my mums happiness. He is very skilled at reassuring her, he is quietly unobtrusive which is so helpful when supporting my mum when she is confused."
"Saima was the first carer we arranged for Mum so a big step but she is friendly and efficient in her care and Mum enjoys seeing her in the evenings. "
"Mum enjoys seeing Tayyba who is friendly and kind to her. She has made a big difference to both Mum and Dad in her support in the evenings."
"Ewa has a very friendly and sociable personality, she was able to have a conversation with my husband although he can be quite reserved with new people. My husband and I were very pleased with the care she provided and look forward to seeing her again."
"Charmin was very helpful with my husbands recovery after a hip operation. Her cheerful positive approach was much needed and appreciated "
"Ramin is a very pleasant person, shows great patience with David, makes a big effort to keep him occupied.He is happy to take David for a walk, very capable."
"Sophie is a wonderful carer, she is kind, helpful and goes above and beyond. "
ME, Haddenham (Aylesbury Vale)
09/03/23
"Fantastic, I love her. She's like a good friend to me, and has been there for me throughout when I've been sick or not sick - and I make her laugh a lot! She is very thorough and absolutely worth her hourly rate, if not more I look forward every time to her coming to visit me, thank you Anne Marie"
SE, Richmond upon Thames
04/03/23
"Lesley is a lovely, caring and sensitive person, totally reliable. Dad immediately took to her and looks forward to her coming."
RH, Great Milton
02/03/23
"Nicki is a great carer and I'm so glad that we found her. She's very considerate of Lin, always letting us know if she has any concerns. She has made Lin feel very comfortable and is 100% trustworthy, going above and beyond our expectations"
"Excellent, I have been practically dependent on him. I had had a fall just as he started and he has handled everything so well. He provides exceptional support. He even has been doing my weekly shopping. He is always ready to help. He turns up on time and will even vacuum. "
"We love Antonella's approach to Dad. He really enjoys her company and as a family we have such reassurance that we know she is coming each time. "
"Jolanta proved to be a good carer for my husband and he was happy to chat with her and felt very safe and comfortable with her. She has a friendly, reassuring presence and we were very pleased to have her. "
"Very professional, knowledgeable & cheerful with the ability to give confidence with empathy to the patient & invaluable support to the family. Certainly to be recommended. "
"Debbie is a lovely, kind, interesting person who looks after my parents. Her visits are looked forward to and cherished."
I'm looking for care
Connect with a qualified carer near you.
Find a carer
I'm looking for a care job
Talk to us and see how you
can become a TrustonTap carer.
Find a care job