Choosing Overnight Care
Why choose Overnight Care?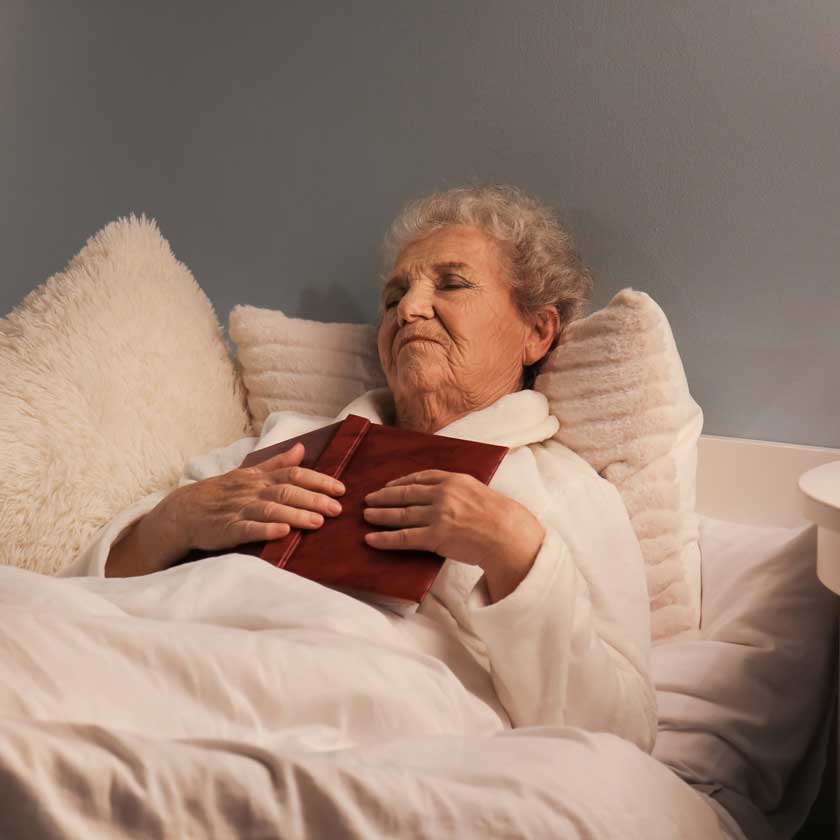 Overnight Care gives you access to experienced carers throughout the night to support even the most complex of needs. It can give you peace of mind knowing that support and companionship are on hand for you or your loved ones during the night.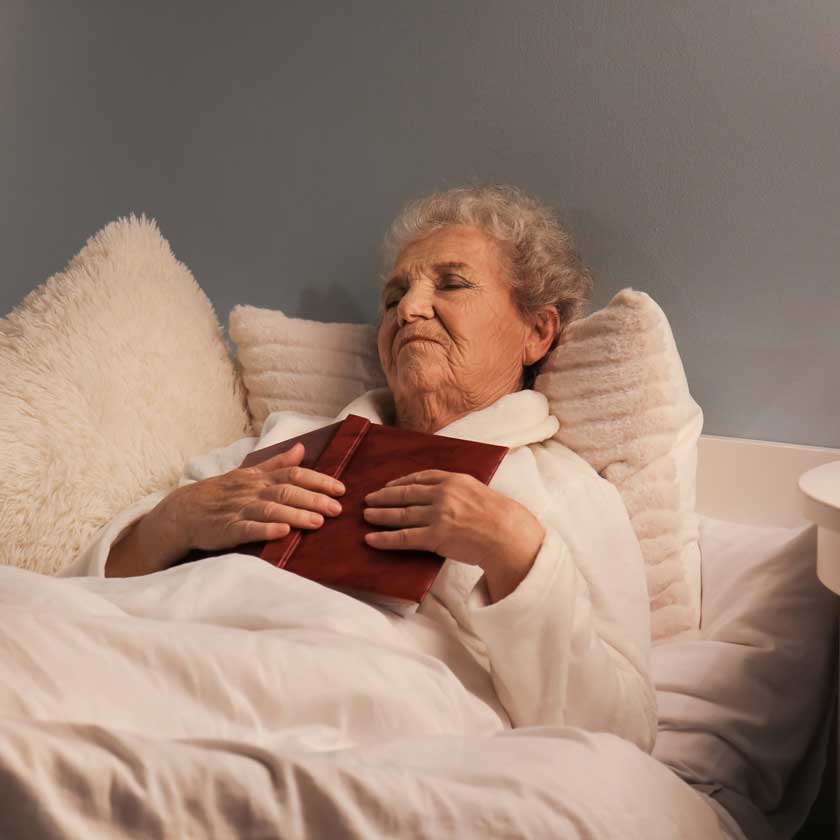 Better quality sleep
Just by knowing somebody is there, could help a loved one get into a better routine with improved sleep and less anxiety. Sleeping well is essential for your overall physical and mental health. A lack of sleep can contribute towards problems like high blood pressure and depression.
Practical help assisting with toilet breaks or moving position in bed
Help with simple tasks as trips to the toilet, that become more frequent, or getting a drink that become more difficult, will encourage a good night's rest. Sleep may also be improved if helping altering positions in bed is required, particularly post injury or surgery.
Reassurance for you and your family
It will provide a sense of security for those who feel uncomfortable being left alone overnight, knowing help is at hand. It will also give a family peace of mind knowing somebody is there if something goes wrong or your loved one is distressed at night.
Administering medication throughout the night
It will give you the peace of mind that essential medicines are not missed.
Someone is always there to handle progressive conditions such as Dementia
Often an individual's care needs can change as a condition progress. Older people can often start waking more frequently or become very disorientated and start 'wandering'. This often affects those with Parkinson's and Dementia in its latter stages. Anyone who has memory problems and the ability to get out and about is at risk for wandering. An overnight carer can keep your loved one safe at home.
Reduction in the likelihood of falls
Falls become more likely when you have had a bad nights sleep. Sleep disturbances are common in the elderly and may contribute to the risk of falling in the day and at night.
WHY TRUSTONTAP?
Overnight Care with TrustonTap
The type of care that your loved one requires will be dependent on their condition, we offer two types of overnight care: Sleeping nights and Waking nights.
Sleeping Nights With sleeping nights your carer sleep overnight while remaining on-hand to assist with occasional care during the night. A carer will sleep in a spare room and be on hand just in case you need them. This will give the family peace of mind if help is needed it's there.
Waking Nights For those with more advanced conditions, more care may be required through the night, such as advanced Dementia and end of life care. Your carer doesn't sleep, so is on hand all night to help at any time. They can also do other domestic jobs that need to be done through the night.
Whether it's just a friendly chat, or an immediate need you have, call our friendly team today on 0808 278 1112
GETTING STARTED
How to get started with Hourly Care
It can often be difficult to acknowledge that it's time to ask for help or support. We all don't like change especially if it is in our own home. Whether it is someone just to 'drop in' and keep you company or help you with personal care or a specific task a regular visit from an experienced friendly carer could really improve your loved one's quality of life.
Give us a call
Our friendly team are here to help and understand your care needs. The initial call needn't feel daunting, we know this can be a big step, but we are here to help with any question you may have about care. There really is no need to commit to anything, often simply understanding what options are out there is all you may want to start with.
Meet your carer
We will arrange for you to meet with the carer(s) we've matched you with, to ensure the match is right for you. We can then help you make a booking at a time that works best for both the carer and you or your family. We pride ourselves on the care we provide and our wonderful friendly team and will regularly ask you for feedback on how your carer.
testimonials
What our customers say
"Maxine has been very supportive and informative, Jacob has grown in confidence, thank you"
"Tanya has been looking after my parents- cooking, cleaning, chatting and anything else that needs attention. Tanya is a very kind, dependable carer for whom nothing is too much trouble. I would highly recommend her!"
"Fabia has settled in well with mum she made a good impression with the detail she recorded at our first meeting. She has been so proactive organising things. Mum is so happy with her, she has such a caring manner and so helpful. Everything that mum needs fantastic"
AC, Middleton Cheney
11/01/23
"Nothing was ever any issue with her, if we needed her to come in early or stay late she was there. She was an Angel, I would give her 6 stars if I could! Would highly recommend to everyone. She is so lovely and everyone that meets her feels the same way. "
PG, Middleton Cheney
11/01/23
"Shannon is one of the most attentive carers, she knows what to do and does it without needing to be told. She is very friendly and approachable. It was a pleasure to have her providing the care. "
"Kanwal was a great person to have in our home. She provided calmness, steadiness, willingness to do anything. She did not wait to be asked, but sought ways in which to be helpful. We were of course pleased to get better, but still sorry to lose her."
"Prisca has been an invaluable help supporting my dad and her patience and kindness have been boundless. "
"Bee has very quickly build an excellent relationship with my Mum and she really enjoys Bees visits, Bee is kind and thoughtful and is a pleasure having her as part of her family "
"Nighat has been wonderful helping us start our care journey. She is insightful, kind, calm, helpful and pro-active with ideas of things to do with my father in law. She has been very flexible with bookings and responsive to messages. Nighat is well humoured and easy to communicate with and there is no awkwardness, she makes a range of situations feel normal and reassures all of us. "
EM, Bletchingdon
04/01/23
"She is a very good carer, professional and reliable, always gentle and good humoured"
CG, Beckley (South Oxfordshire)
03/01/23
"Jennifer is kind and patient. She is a joy "
CW, Horton-cum-Studley
30/12/22
"Very friendly, likeable lady. "
TG, Long Hanborough
30/12/22
"Tanya is a very helpful and a value to your company . "
EM, Bletchingdon
30/12/22
"PeterRicardo has been looking after my husband for about a couple of months now. He is an excellent carer, very professional and reliable and at the same time very kind and gentle. He is always good humoured and it is a pleasure to have him in our home. I trust him absolutely and wouldn't hesitate to recommend him to anyone in need of a carer."
"Jolanta is very flexible about the care she gives and goes out of her way to ensure that dad has an enjoyable and fulfilling time when she is with him. "